BULLY BOY PRESS - DC
THIS JUST IN!
THEY'RE LOSING IT IN DC!
BULLY BOY HAS MADE A FANATICAL CLAIM THAT HAS SOME WORRIED ABOUT THE SANITY LEVEL IN THE OVAL OFFICE. BULLY BOY HAS STATED THAT HARRY REID, THE SENATE'S MINORITY LEADER, IS "SINGLE-HANDEDLY THWARTING" HIS ATTEMPTS TO CRIMINALIZE UNDOCUMENTED WORKERS. THOSE NOT CONCERNED ABOUT THE SANITY LEVEL OF THE BULLY BOY MERELY CHUCKLE AT THE THOUGHT OF
SUPER BENDY
"THWARTING" ANYTHING.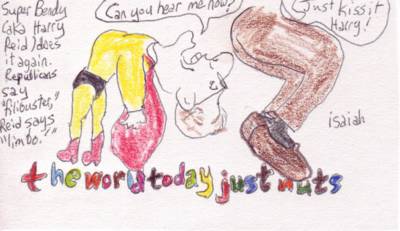 IN OTHER NEWS OF THE ADMINISTRATION'S SINKING SHIP, LAURA BUSH HAS HIT THE CAMPAIGN TRAIL IN AN ATTEMPT TO . . . WELL NO ONE REALLY KNOWS. JUST ANOTHER CASE OF
SEND IN THE FEMBOT
!
---